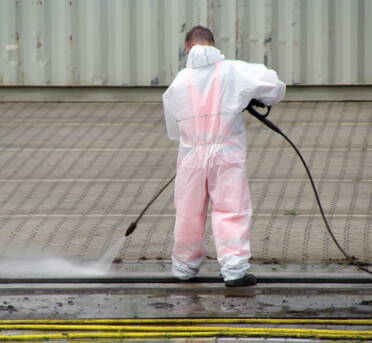 Effective & Safe Restoration Cleaning Supplies For Industrial
Maintaining cleanliness and hygiene in industrial environments is crucial for workers' well-being and the optimal functioning of equipment. Whether you're dealing with grease, stains, mould, or odours, it's important to learn how to tackle industrial cleaning challenges while prioritizing safety.
Several options are available when it comes to effective and safe restoration cleaning supplies for industrial use. Clean Spot is here to provide effective and safe restoration cleaning supplies.
Bioesque Solutions
When it comes to restoration cleaning supplies, Clean Spot recommends going with Bioesque Solutions products.
A key component of their restoration supplies and products is Thymox® Technology, a sustainable botanical formula with strong antimicrobial properties. Easily biodegradable, non-toxic, non-corrosive, and environmentally friendly, Thymox is environmentally friendly and non-toxic.
We carry many of their cleaning products, from odour neutralizers, coating removers, adhesive mastic removers and more!
Odour Neutralizers
Industrial environments can sometimes have unpleasant odours. Opt for odour neutralizers that eliminate odours without masking them with strong fragrances. Consider natural or enzyme-based products that are safe and eco-friendly.
Bioesque solutions carry an array of these, such as the Botanical Odour Neutralizer 4. These can remove anything from coffee stains, blood, vomit, and dirt.
Mould and Mildew Removers
Mould and mildew can pose serious health risks, so choosing effective cleaners is important to eliminate them. Look for mould and mildew removers specifically formulated for industrial use, with safe ingredients for workers and the environment. Watch these removers work on contact as the high-foaming formula clings to walls and ceilings for improved performance!
All-Purpose Cleaners
Look for all-purpose cleaners specifically designed for industrial use when shopping for restoration cleaning supplies. These versatile cleaners can be used on various surfaces, including floors, painted walls, woodwork, marble, plastic, metal and other hard surfaces impervious to water.
Disinfectants
Disinfectants are popular restoration cleaning supplies and are crucial in industrial cleaning, especially when hygiene is paramount. Opt for EPA-approved disinfectants and effective against a wide range of pathogens. Ensure that they are safe for use on different surfaces and materials.
We Make Cleaning Simple!
Aside from restoration cleaning supplies, Clean Spot stocks the highest quality janitorial cleaning supplies, Mops, scrubbers and many more!
Clean Spot Inc is committed, through the strength of our people, to deliver the best products and services while creating a memorable buying experience.
Contact us at Clean Spot (866) 281-2185 if you have any questions.