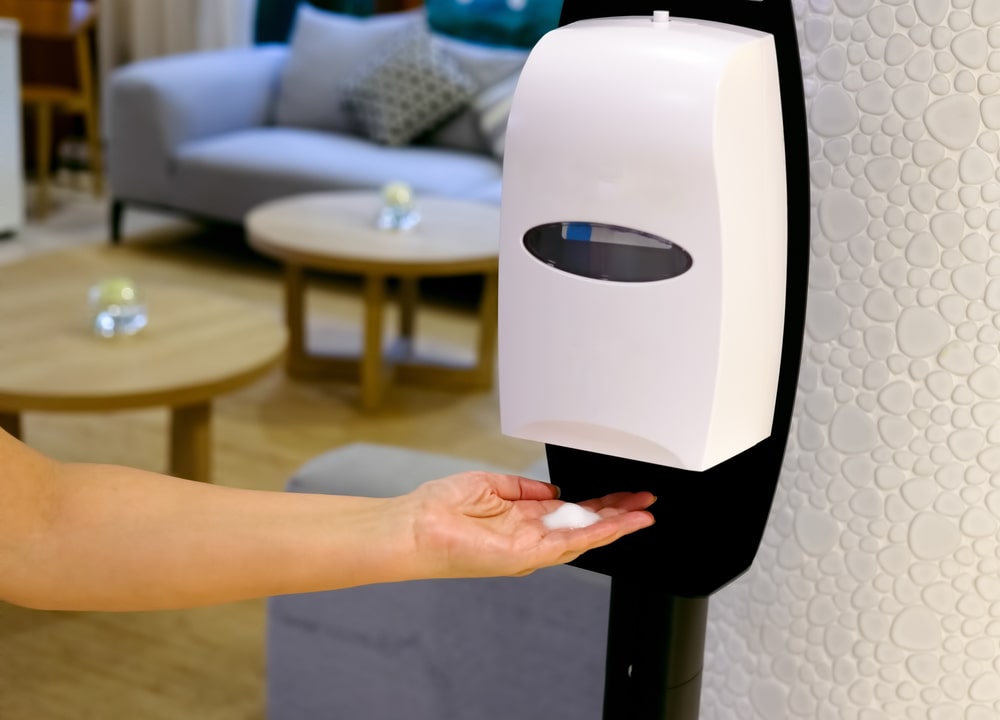 Ideal locations for hand sanitizers in your facility
The use of hand sanitizer is more important than ever. While the CDC recommends soap and water as the best way to effectively clean hands and limit the spread of viruses, we're not always around soap and water. Having hand sanitizer accessible around the facility sends a message to your employees and customers that your company is responsible and has their safety in mind. Here are some tips on the proper placement of hand sanitizer dispensers to remind and encourage staff and clients to use them.
High foot traffic areas
By far, entrances and exits are the most important areas to place a hand sanitizer station. Be sure to display written reminders for people to sanitize before entering the building and as they leave. Additionally, high foot traffic areas include meeting rooms, check-in desks, coffee stations, food prep areas, and near garbage receptacles.
Directly outside of restrooms
Although hand washing after using the bathroom is recommended for proper hygiene, some people forget or simply choose not to because they want a quicker method. Hand sanitizer dispenser placement right outside of the restroom helps encourage people to clean their hands or as an added measure after using soap and water.
Cash registers
It's been reported that debit/credit machines have a high amount of germs and bacteria, which highlights the importance of having hand sanitizer nearby for employees and customers. If your business operates with debit/credit machines, be sure to place a bottle of hand sanitizer at each register.
High-touch areas
High-touch areas can include kitchens and cafeterias, break rooms, food courts, employee desks, shared tables, elevators, stairs, and escalators. Take note of where your staff and customers frequent or common items they touch and have hand sanitizer readily available.
Final thoughts
While the proper placement of hand sanitizer dispensers helps limit the spread of viruses, it's important to provide the right type of sanitizer. Be sure you're using a product that contains at least 60% alcohol to effectively kill germs, and consider dispensers that are easy to use.