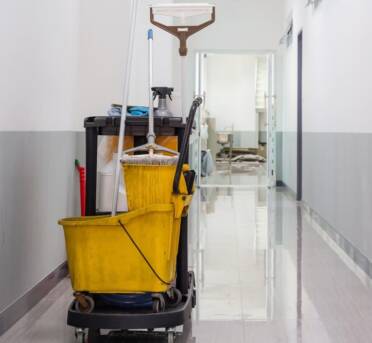 5 Essential Cleaning Supplies Hotels Can't Operate Without
Browse through hotel reviews and you'll quickly find that a majority of guests mention the world clean – whether it's to leave a great comment about the cleanliness of the hotel or a bad review about the lack thereof.
Cleanliness is crucial to the success of a hotel. Unlike other businesses where cleaning is done at the beginning of the day, end of the day, or perhaps even once a week, hotel cleaning consistently happens throughout the day. And with such a significant part of the job, it's no surprise that hotels in Calgary invest a great deal in the right hospitality products and cleaning supplies.
Here are some of the most essential cleaning supplies that help the housekeeping department stay efficient and organized.
1. Housekeeping cart
Also known as a cleaning or utility cart, housekeeping carts allow cleaners to easily move through hallways and up and down different floors with all of the supplies they need. The latest housekeeping carts are quite versatile with tool holders, locking cabinet doors, and built-in trash bins. Housekeeping carts are simply one of the most vital cleaning equipment for the hotel industry. 
2. Spray bottles
A spray bottle might seem like quite a simple cleaning tool to have, but it comes with some incredible cost-effective benefits. The hotel industry goes through a substantial amount of cleaning chemicals – to offset the cost, housekeeping managers order chemicals in bulk and distribute each into different spray bottles, mixing with water when required.
Spray bottles can be colour-coded for easy identification. They should always have a safety sticker or label with the hazards, risks, and health information of its contents printed clearly around the bottle.
Essential hotel cleaning chemicals include:
All-purpose cleaner

Disinfectant

Neutral cleaner

Window cleaner

Deodorizer

Bathroom cleaner

Toilet bowl cleaner

Floor cleaner
3. Cleaning gloves 
A housekeeper does more cleaning in a day than the average person does in a month. With this in mind, the risk of chemical exposure is at an all-time high. Cleaning gloves and other personal protective equipment is essential for worker health and safety. Be mindful of any aversions to latex and always offer cleaning staff different options for cleaning gloves, including rubber and nitrile.
4. Trash can liners
Trash can liners can be used with the bin attached to the housekeeping cart, making it safe and easy for cleaners to remove waste from each room and deposit it into the trash bin. Trash liners can come in perforated rolls or boxes that let you pull one out individually. Whatever the cleaning staff prefers, bulk trash can liners can be a part of the supplies organized in the housekeeping cart for convenience. 
5. Ergonomic cleaning tools 
Last but certainly not least, ergonomic cleaning tools are a must-have for a housekeeping team. Cleaners face physical health risks every day with repetitive motions, lifting, reaching, straining around awkward angles and hard-to-reach areas, and being on their feet for hours a day. This can lead to chronic back pain, shoulder aches, tense muscles, and a greater chance of injury. 
To help combat work-related injuries, manufacturers of cleaning tools are consistently improving products to be more ergonomic, efficient, and lightweight. Some of these tools can be as simple as a duster with an extractable handle, an angled handle to minimize straining, and tools with grip handles, just to name a few. 
One of the most exciting parts of the cleaning industry is that tools, supplies, equipment, and chemicals are constantly being improved. Housekeepers, cleaners, and janitors are some of the most important workers of any business and the role is sometimes an unforgiving one. The most essential supplies are ones that help cleaners make their jobs a little easier, minimize physical strain, and protect their health.