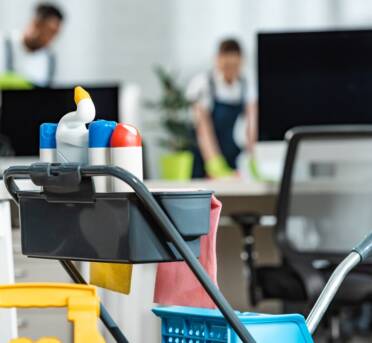 Essential Commercial Cleaning Supplies Checklist
Whether you're starting a new business or you're looking to update your current cleaning supplies inventory, you've come to the right place. Proper commercial cleaning is meant to be efficient, effective, and tailored to meet the needs of the business. This article lists some tried 
and true commercial cleaning supplies that will help save you time and money in the long run. 
Essential commercial cleaning supplies
We recommend walking through your commercial space and identifying what type of tools you need for the specifics of the building, such as flooring materials, different types of surfaces, high-touch areas, common areas, and usage.
While commercial cleaning supplies can vary for each Edmonton business, this list is a great starting point to building a well-stocked inventory that can tackle just about any daily cleaning job. 
1. Microfibre cloths
This is a must-have for any business. Microfibre cloths effectively pick up more dust and dirt than other types of cloths and can be used with cleaning chemicals. They are washable and reusable up to 500 times or more. They come in different colours to separate cleaning tasks for the kitchen, bathroom, work areas, window and glass, and other surfaces.
2. Cleaning brushes
The quality of your cleaning brushes can impact the productivity of your cleaning staff. Good brushes easily remove stubborn grime and residue and are built to last longer. For everyday commercial cleaning, you'll want to invest in good-quality brushes for cleaning sinks, toilets, the kitchen area, and other surfaces that are prone to built-up grime. We recommend purchasing different-sized brushes to tackle all types of cleaning.
3. Floor cleaning equipment
Depending on the size of your establishment, the right floor cleaning equipment should help make the job more efficient. For example, large commercial spaces benefit from automatic scrubbers, polishers, and ride-on cleaners. For small to medium-sized spaces, a commercial vacuum, broom and dustpan, and mop and bucket will do the trick.
4. Janitor cart
A janitor supply cart is a must-have for any establishment. It helps keep your cleaning supplies organized and easy to access. Modern janitor carts are sturdy, feature various compartments such as convenient garbage disposal, and can be equipped with a locking cabinet to keep supplies secure.
5. Extendable duster
Rooms can quickly accumulate dust in between cleaning tasks. For convenient and easy spot-cleaning, you'll want to invest in a duster with an extendable arm. This allows you to clean hard-to-reach areas like shelves, blinds, ceiling fans, and other overhead places. 
6. Protective gloves
Always use protective gloves when cleaning, especially if you are using commercial cleaning chemicals. There are heavy-duty reusable rubber gloves available for heavier cleaning and disposable latex or nitrile gloves for daily cleaning jobs. 
7. Garbage bags
Last but certainly not least, garbage bags are essential for all businesses. Commercial garbage bags are typically made thicker and larger to meet the needs of businesses. Be sure to use the appropriate type of bag for its purposes, such as clear bags for recyclables and green bags for compost. 
Essential commercial chemical products
Commercial chemical cleaning products are more powerful than household chemicals in effectively lifting stuck-on dirt and grime. They are formulated to meet rigorous industry standards, especially for establishments such as medical, restaurants, and food-handling facilities. 
Depending on the nature of your business, you may require products not on this list or may not need some of the following. We've listed some of the most essential commercial cleaning products below.
1. All-purpose cleaner
Formulated to clean most surfaces, including countertops and desks. Avoid using an all-purpose cleaner on real wood furniture as it can dull the surface. Instead, be sure to purchase a cleaning chemical formulated specifically for wood.
2. Glass and window cleaner
Avoid using other types of chemicals on glass and window surfaces as they can leave behind unsightly streaks. Glass and window cleaners are specially formulated for a streak-free shine. Never mix glass and window cleaner with other chemicals. 
3. Disinfectant
Disinfecting after you clean is now more important than ever. Remember, cleaning a surface is not the same as disinfecting it. While chemical products like all-purpose cleaners are made to remove dirt and grime, disinfectants remove harmful germs and bacteria. We recommend disinfecting high-touch surfaces throughout the day.
4. Stain remover
Stain removers can be used on carpet, drapes, and hard surfaces like bathroom tiles and countertops. This is a great product to have on hand for any establishment.
5. Floor cleaner
Be sure to use floor cleaners that are made specifically for the type of floor you're cleaning, such as real hardwood floors, laminate, vinyl, cork, tile, and more. If you use the wrong chemical for a certain type of floor, it can dull the surface and even cause it to crack and warp. 
6. Bathroom cleaner
This is an essential chemical product, as all establishments have bathrooms. There are acid and non-acid options to choose from, both formulated to clean and deodorize hard non-porous bathroom surfaces such as toilet bowls, showers, walls, tile, sinks, and fixtures. 
7. Stainless steel cleaner
For stainless steel appliances such as microwaves, ovens, and refrigerators. Stainless steel cleaners leave behind a streak-free clean and protect the surface from becoming dull. 
8. Furniture polish
For businesses where appearance matters, furniture polish keeps your desks, shelves, and other furniture looking brand new. This is a must for office furniture and common areas where clients and customers can see how well-maintained the commercial space is. 
Final thoughts
Of course, commercial cleaning supplies and chemicals are not limited to the above. This is a simple guide to help you get started on building a good inventory of cleaning tools that will tackle the most common commercial cleaning tasks. If you're unsure, take note of areas that can be improved and consult with a professional cleaning supplier like Clean Spot.