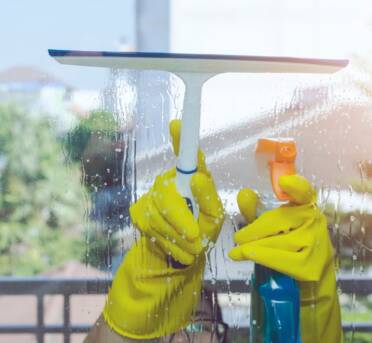 Essential Window Cleaning Supplies for Commercial Use
Commercial window cleaning protects your windows, maintains a positive impression on customers, and contributes to an overall healthy work environment. Depending on the number of windows a commercial space has, window cleaning can take up a large portion of cleaning time. This is why it's important to use the right chemicals and tools that can make window cleaning more efficient.
Cleaning windows for commercial spaces involves more than a spritz of Windex and a cloth. Here are essential window cleaning supplies to add to your cleaning routine that will help save your Edmonton business time and money. 
Commercial glass cleaner
First and foremost, you want to use commercial glass cleaners as they are formulated differently than window cleaners for home use. It's important not to use just any multipurpose cleaner as they'll leave streaks and will end up costing you more time to correct.
Commercial glass cleaners are more powerful and concentrated, the formula gliding easily through the glass and leaving a streak-free clean. There are hard water stain removers available that effectively remove spots and discolourations. Furthermore, commercial glass cleaners are offered in bulk which lowers costs for businesses. 
Window cleaning tools
The most simple window cleaning tools can make a significant difference in efficiency and effectiveness. The right tools can help you reach high areas, awkward angles, and cover a lot of window space. You can choose a window cleaning kit that includes all of the essentials that you need or purchase tools individually, such as:
T-bars

Brushes

Squeegees

Scrapers and blades

Poles, adapters, and connectors
Window cleaning accessories
Window cleaning accessories such as toolbelts, pouches, and holsters are designed to make the job more convenient, comfortable, and organized. Rather than carrying the tools you need, you can conveniently hang them on your belt and pouch and easily reach for them as you clean.
Lightweight and durable

Versatile looped belt

Strong webbing that won't snag

Adjustable length
Contains three waterproof compartments for storing dry and damp cloths separately

The front pocket features a tool loop, hook, and loop closure
Two pockets hold 6-inch scrapers easily

A special hidden pocket holds replacement blades

Multi-use pouch designed to carry a variety of things

Constructed of ballistic nylon with rivets for reinforcement
Perfect fit for a scraper

Vertical water-resistant divider

Keeps wet and dry towels perfectly separated

A vertical divider for compartments ensures fast access to your cloths

Extra bottle holder /cleanser in the inner main compartment

Water-resistant zippered pocket for smartphone/keys

Lowered entry bottle holster for quick entry

Zips easily to operate while on the move

Reinforced stitching of the zip

Magnetic closure system
Commercial window cleaning supplies are not limited to the above list. Whether you are starting a new business or you're looking for ways to make your existing window cleaning routine more efficient, we can help. At Clean Spot, we are experts on commercial and industrial cleaning supplies in Edmonton. If you need assistance in building an inventory of the essential cleaning supplies you need, give us a call and we can help.