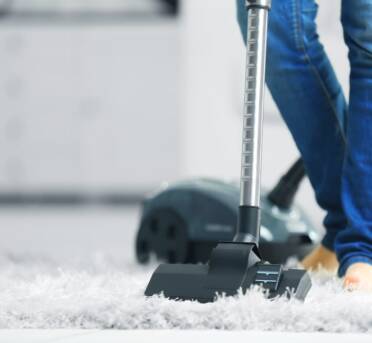 How to Make Your Vacuum Last Longer
The vacuum cleaner is easily one of the hardest working cleaning equipment for commercial and industrial facilities. It's typically used every single day in a routine cleaning schedule, which translates to about 300+ times a year. That's a lot of stress on the vacuum's motor with heavy wear and tear on the various components. And without proper maintenance, there's a higher chance of needing replacement parts or replacing the entire vacuum altogether. 
The good news is, that there are ways to extend the lifespan of your vacuum and keep it running efficiently. Here are some simple steps to take to make your vacuum last longer.
Watch what you're vacuuming
Large sharp pieces of glass, rocks, and liquids can do quite a bit of havoc on the vacuum's motor and other parts. Be sure to pay attention to what you're vacuuming and avoid such items that can damage the motor. If you've accidentally vacuumed a large object or liquid, turn the vacuum off, unplug it, and inspect the parts for any damage.
If your vacuum's motor does become damaged, but the body of the vacuum is in good condition, a vacuum parts supplier in Calgary or Edmonton may be able to help you save money on purchasing a brand new unit with replacement parts instead. 
Don't overfill the bag or the canister
Filling the bag to the brim may seem like a cost-saving idea, but can clog the vacuum's inner workings. Over time, this can cause more wear and tear on the components. Furthermore, a clogged vacuum emits the dirt back into the air you breathe and makes cleaning inefficient. 
Whether your vacuum is bagged or bagless, it's important not to overfill it. Most modern vacuums come with a full-bag indicator or a max line for canisters. A telltale sign that the bag needs to be changed or the canister emptied is if you notice a decrease in suction power. 
Clean the filter regularly 
If your vacuum has a filter, be sure to clean it about once a month and replace it every 6 months. Filters protect the motor and prevent dirt and dust from being released back into the room, highlighting the importance of keeping it clean. When cleaning the filter, do so gently and avoid wringing or twisting it. Let the filter air dry for at least 24 hours before putting it back into the holder. 
Clean the brush 
If you use the vacuum every day for your facility, we recommend inspecting the brush every week. Hair, string, and other fibres can become tangled in the motorized brush and can restrict its cleaning power. If you notice any tangles, gently use scissors to cut through the hair or string and pick it out with your fingers, being careful not to cut through the brush's fibres.
Inspect the belt
After cleaning the brush, check the belt to see if it's flush against the roll. It should be a tight fit, but if you notice that the belt is stretched out or frayed, a replacement is recommended. The general rule of thumb is that the belt should be replaced every 6 months to 1 year, depending on how often you use your vacuum cleaner. 
Inspect the hose
If your vacuum has lost suction power, it may be due to a clog in the hose. Release the hose from the vacuum and brush attachment and stretch it out to release any clogs. You can also use a broom handle to undo any blockages. Be sure not to use any sharp objects to unclog the hose to avoid puncturing it. 
Have your vacuum cleaner serviced
Last but certainly not least, schedule routine maintenance service on your vacuum cleaner to help keep it running efficiently. At Clean Spot, we can service multiple pieces of cleaning equipment on-site for one hourly flat rate, including commercial sweepers, carpet extractors, auto-scrubbers, and more.