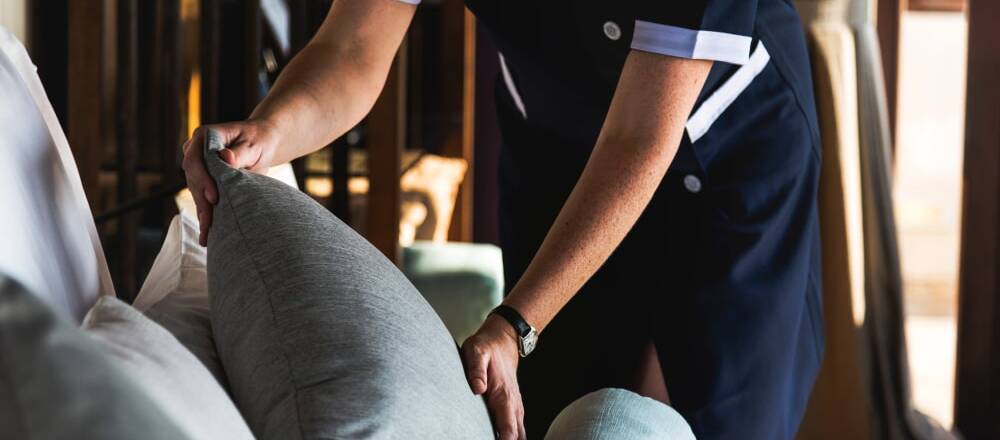 5 tips to make hotel housekeeping more productive
One of the first impressions that guests have of their hotel stay is the cleanliness of their room and it's often what makes the difference between a good or bad review. This highlights the crucial role that housekeepers play in the success of a hotel. Additionally, the housekeeping department represents a significant opportunity to improve the hotel's bottom line with simple productivity strategies. Let's take a look at five ways to make hotel housekeeping more productive.
1. Keep a well-stocked and organized inventory of cleaning supplies
Waiting for the next supply delivery, even for an hour out of the day, delays the housekeeping schedule and creates a domino effect. If a room is not cleaned in time, the front desk reps will need to adjust and find an available room for guests.
One way to streamline the ordering process is to create a list of supplies that you need to restock per week or per month (depending on the size of the hotel) and create a day on the calendar to place an order with your janitorial supplies provider in Calgary. This ensures that the items you need are consistently well-stocked. Additionally, the supply company will expect your call and know exactly what you need to order. They can have it automated, saving you time in the process. For items that don't need reordering for some time, create a reminder every 3 months to do an inventory check.
Keep your stockroom organized, placing frequently used items in locations that are easy to access. Tackle clutter right away and have a system to receive, unpack, and organize orders as soon as they come. This eliminates the time that housekeeping staff takes to access the supplies they need. Check out our stock of cleaning and hospitality products.
2. Provide the housekeeping team with the right tools and equipment
Providing the housekeeping team with the right equipment means being up-to-date on the latest tools that can boost productivity. The cleaning industry is constantly evolving to offer equipment that is more ergonomic, takes less energy to operate, are more efficient, and can enhance productivity significantly. These tools reduce worker strain and physical stress from repetitive motions and over-exertion. Not only will the right tools and equipment improve productivity, but they will boost the morale of your staff. Consider investing in the latest cleaning equipment from your local Calgary janitorial supplies provider.
3. Make a list of items needed for the housekeeping carts
One of the tasks that can eat up quite a bit of time is restocking carts at the start of each shift. Unnecessary trips to the stockroom can be avoided by equipping your housekeeping team with stocked carts so they can focus and get to work right at the beginning of their shift. To smooth out this process and promote consistency, make a checklist of the items needed for each housekeeping cart. This helps ensure carts are well-stocked and organized at the end of the night, regardless of who is restocking them.
4. Give employee recognition
Hotel cleaning can sometimes be a thankless job with tight deadlines and physically demanding labour. When cleaning staff feel seen, heard, and appreciated, they are often more invested and productive in their role. Some of the examples that housekeeping managers do to keep their staff motivated and engaged are offering gifts like movie stubs, gift cards to their favourite restaurants, and fun raffle contests. An 'employee of the month' recognition is a simple and powerful way to say thank you and make an employee feel recognized for their hard work. It also establishes a certain standard for other staff members to be inspired by.
5. Keep an eye on constraints and address them quickly
Last but certainly not least, identify where bottlenecks are happening in the housekeeping process. What's taking longer than it should? Where are the constraints happening? The best way to understand what your staff needs is to give them the opportunity to express their concerns, offer suggestions, and provide feedback on ways to improve their workplace.
We recommend setting consistent dates (whether it's monthly, quarterly, or right before and after busy seasons, depending on your staff's needs) for a meeting with your housekeeping team to check-in. Your housekeeping staff will appreciate your care and consideration in staying on top of these issues and addressing them as quickly as possible.