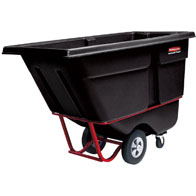 The Benefits of Commercial Carts and Tilt Trucks for Your Canadian Business
Cleaning carts and tilt trucks are essential items in the commercial cleaning industry. They provide a mobile workstation for cleaning staff by storing all materials, equipment, and chemicals needed to clean a building. They offer many benefits, including better organization, increased productivity, security, safety, and reduces cleaning costs with fewer wasted resources and time. 
Additionally, tilt trucks can be used in many applications such as warehouse stock picking, material handling, and assembly line work. They are an ideal solution for transporting, moving, and storing materials efficiently and safely. Tilt trucks can be used as a commercial cleaning cart by placing items needed to clean a given area into the bin. Utility tilt trucks are ideal for commercial cleaning applications because they are designed to handle heavy materials.
Cleaning carts and tilt trucks continue to be necessary and valuable pieces of equipment, regardless of the advanced cleaning technology and innovative cleaning solutions today. Below are some of the benefits and uses of commercial cleaning carts and tilt trucks across a wide range of industries:
1. Restocking items and general cleaning are more efficient
The hotel industry is one of the most common examples of facilities that benefit greatly from cleaning carts. Items that are stocked in rooms, such as towels and soap, can easily be stored in cleaning carts for smooth and quick restocking. Other industries that rely on these housekeeping caddies are medical businesses like hospitals, manufacturing companies, and pharmaceuticals. They're also often found at restaurants retail stores, and businesses that frequently stock and restock products or service items.
2. Better organization and consistency 
These days, modern janitorial carts include shelves and compartments for better organization. They also have garbage containers to keep your cleaning supplies in order so you don't need a separate cart or cabinet at each workstation! 
Gone are the days of a rickety cleaning cart, today's carts include shelves and compartments for better organization. Janitors can now go anywhere in the building with their equipment without having to worry about picking up supplies. The new janitorial trolleys are much more advanced than before and include shelves, hooks for organizing items on hand or convenience disposal bins so there's no need to stop what you're doing.
These features alone make it easy and productive for cleaning staff with no need to run back and forth to the stock room. Furthermore, cleaning carts can be pre-stocked and ready for the next staff member's shift without missing a beat. All of the above translates to cost savings and better use of time! 
3. Cleaning products and equipment are secure
Lockable cleaning carts are a great way to keep your valuable items safe while you work. This feature is especially beneficial for large venues and facilities where there is a high volume of foot traffic and cleaning staff work during open hours. Unfortunately, theft happens in facilities where cleaning tools and equipment are left unattended and out in the open. The good news is, there are cleaning carts available with locks and secure compartments.