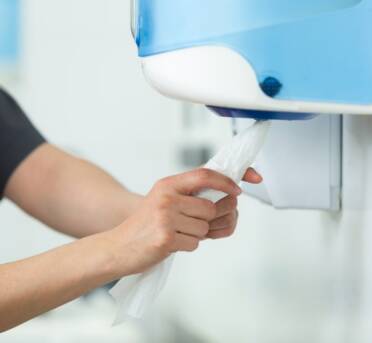 Towel Dispensers and Why Clean Spot Chooses Frost Products
Towel dispensers are an industry must for any commercial or industrial facility to have when it comes to proper hygiene.
Because they are so often used, the towel dispensers' design shouldn't be overlooked. It has to be simple and convenient while being versatile. This is especially important for fast-paced environments like restaurants.
In this article, we'll look at the benefits of towel dispensers and why we at Clean Spot choose Frost Products as our supplier.
Benefits of Towel Dispensers
Towel Dispensers are popular because they are user-friendly and quick while reducing the risk of malfunction. Not to mention, Frost products like the Control Roll Towel Dispenser have durable construction and easy maintenance to ensure a long-lasting life. Common spaces that use these are:
Restaurants
Bathrooms
Schools
Malls
Office
Fitness facilities, and more.
Many prefer towel dispensers when drying their hands compared to hand dryers. We will take a look at the reasons why next.
Comparing to Electric Hand Driers
Electric hand dryers are more modern technology used to dry hands, but while it is advanced, there are drawbacks. One being, it can only dry, not be used to wipe away spills or stains.
Another key factor is that they are far more cost-effective, from the original purchase to maintaining them. Towel Dispensers do not use electricity or have too many defects because of their durability.
Another thing to consider when comparing the two is how the more manual structure of towel dispensers can dry your hands and release bacteria from your skin more effectively. This is because the users are rubbing their hands, removing bacteria that may have been missed.
Why Frost?
Frost towel dispensers are the top of their kind for having a reliable, durable all-steel body. It's a popular choice because of its robust design, accessibility and professional appearance.
Made with all-Canadian steel construction, these units are easy to maintain and will last long. Aside from Frost towel dispensers, Clean Spot stocks the highest quality janitorial cleaning supplies, Mops, scrubbers and many more!
Contact us at Clean Spot (866) 281-2185 if you have any questions.