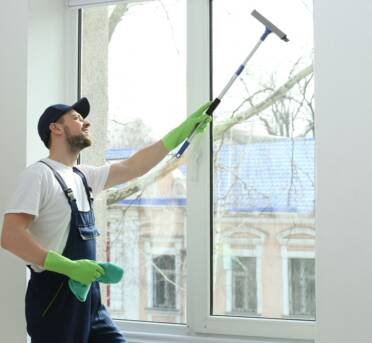 Tucker Window Cleaning: Choose the Right Products to Clean Windows
When choosing the right products to clean windows, several factors must be considered. The goal is to find products that effectively remove dirt, grime, and streaks without leaving residue or causing damage to the windows.
In this article, Clean Spot is here to provide tips for choosing the right products to clean windows.
Tucker DI Starter Packages for Window Cleaning
Tucker provides DI starter packages for window cleaning, such as the following:
Tucker starter packages has all you need to start from the #1 brand in water-fed window cleaning. This professional quality system is designed for areas with low TDS (Total Dissolved Solids), or lite-use cleaners.
Hose Reels for Window Cleaning
Included in the above packages or sold seperately, Hose reels provide numerous benefits for window cleaning tasks, including improved organization, enhanced mobility, hose protection, space-saving advantages, and a more professional appearance.
With a hose reel, you can extend the reach of your hose to cover a larger area without having to move the water source physically. This is particularly useful for window cleaning in multi-story buildings.
Investing in a special set like the TUCKER PRO-CART 4 STAGE PACKAGE 40′ C/W can make your window cleaning operations more efficient, convenient, and effective.
Extension Poles for Window Cleaning
Also included in mentioned packages, or sold separately, are extension poles.
Consider using an extension pole with your squeegee or cleaning tools if you have high or hard-to-reach windows. This will help you safely clean windows at various heights without the need for ladders or risky positions.
The Tucker Premium Bulk DI Resin
DI resin stands for deionization resin, designed to remove impurities and minerals from water. When used in window cleaning, it helps achieve spot-free and streak-free results. By removing minerals such as calcium, magnesium, and dissolved solids from the water, the DI resin ensures that no mineral residue is left behind on the windows after cleaning.
This is especially important for areas with hard water, which can leave unsightly spots and streaks on windows.
When using the Tucker Premium Bulk DI Resin for window cleaning, it's important to follow the manufacturer's instructions for proper usage and regeneration of the resin. This will ensure optimal performance and longevity of the product. Additionally, the amount of DI resin required will depend on the size of the water filtration system and the frequency of window cleaning tasks.
Top-of-the-Line Window Cleaning Products
Other products to consider for window cleaning are microfiber cloths, squeegees and window cleaners. Clean Spot we supply only top-of-the-line window cleaning products such as Tucker brands.
Remember to read and follow the instructions provided with each product you use. Additionally, test any new product or solution on a small inconspicuous window area first to ensure compatibility and avoid potential damage.
Contact us at Clean Spot (866) 281-2185 if you have any questions.