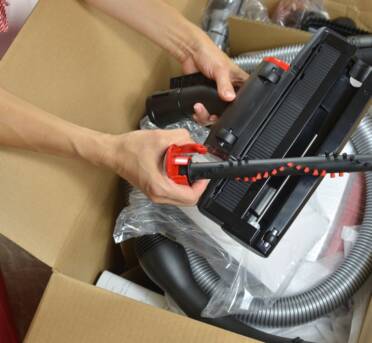 Vacuum Parts Buying Guide: What to Check Before Buying from A Supplier
Do you currently own a vacuum that you love but want to enhance its performance? Buying separate vacuum parts is a smart and cost-effective option! The right accessory depends on what you're cleaning, where you're cleaning, and the type of vacuum you have. Before you purchase from a reputable vacuum parts supplier in Calgary or Edmonton, here's a guide that will help you choose the right accessories.
Tips for purchasing vacuum parts
Vacuum parts are not universal

– Be sure to check that the size of the tool is compatible with your vacuum cleaner to avoid the hassle of returning parts that don't fit your machine.

Suction alone doesn't clean floors –

Although some advertisements claim that horsepower and suction are what make the vacuum cleaner effective, the majority of the cleaning is accomplished by the brush roll. For this reason, we recommend using a hard floor brush for hardwood floors, a carpet tool for carpeted floors and rugs, and a soft brush for delicate surfaces.

Don't forget about hard-to-reach areas –

While we use vacuum cleaners primarily for floors, they are useful for cleaning overhead areas like ceiling fans, the tops of bookshelves and cabinets, and any hard-to-reach places. We recommend buying a multi-angle brush or an extendable tool that allows you to tackle those challenging areas.

Stock up on filters and replacement bags –

Filters and replacement bags are something that you'll eventually need to purchase in the future. If you're buying parts and accessories from a vacuum supplier in Calgary or Edmonton, combining your purchase with filters and bags can save you some money. Your total purchase will have one delivery fee (if applicable) and purchasing from a supplier typically costs less than buying from the store.

Take advantage of extension cords and longer vacuum hoses –

Using an extension cord and a longer hose is a great solution if you're finding that you need to pause frequently to pull the vacuum cleaner closer to you, you're straining to reach because of a short vacuum hose, or you need to stop and plug the vacuum to a closer outlet. Additionally, if your vacuum has lost suction, check to see if the hose is damaged and needs replacing.
How to extend the life of your vacuum
Replacement parts and accessories can improve your vacuum's performance, but they don't (and shouldn't) cancel out regular servicing. Dust and particles get trapped in the motor, filter, seals, gaskets, and all components, which can reduce its efficacy. And when a vacuum is clogged with dirt, it goes back into the space and air you breathe.  Like any machine, vacuums require maintenance at least once a year to keep them operating at their best and lasting longer.