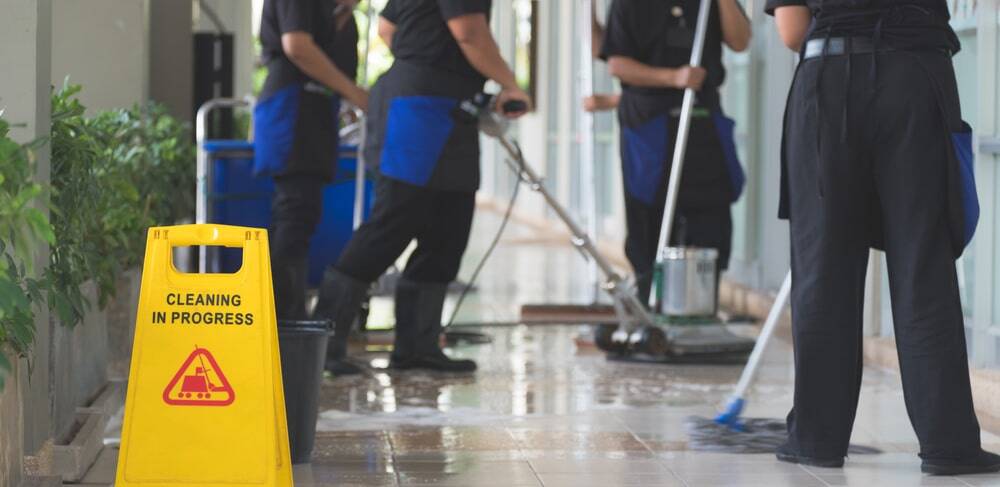 What is commercial cleaning?
Simply put, commercial cleaning is done in commercial or public buildings – however, there's a little more to it than that. It's important to know what's involved in commercial cleaning as it can present opportunities to improve productivity and a company's bottom line.
What is included in commercial cleaning
Commercial cleaning covers the smaller, daily maintenance tasks to keep a business clean along with the bigger projects that are done monthly. Think of how you would approach cleaning your home, but on a much larger scale depending on the facility's foot traffic and who accesses the building. Not all commercial cleaning is done the same – for example, cleaning a school or daycare differs greatly from cleaning a grocery store.
Generally, everyday commercial cleaning duties include:
Bathrooms
Breakrooms and kitchen area
Emptying trash bins
Dusting
Vacuuming carpet
Sweeping and mopping hard floors
Wiping down windows that are easy to access
Wiping down high-touch areas
Wiping down desks and office chairs
Larger commercial cleaning projects include:
Deep carpet cleaning
Deep cleaning of upholstery
Cleaning windows that are harder to access (such as high-rise buildings)
Power washing specific areas (the perimeter of the building, entryways, foyers, etc)
Commercial cleaning equipment guide
There are many variations of the type of cleaning equipment used for commercial facilities in Calgary as it is dependent on the size of windows, flooring, walls, vents, and other surfaces. We've gathered a list of some of the most common and frequently used commercial cleaning equipment that businesses use below:
Commercial vacuum cleaners
Commercial floor scrubber (depending on the size of the facility, there are ride-on sweepers available)
Janitorial carts
Commercial steamer for upholstery and floors
What is the difference between industrial and commercial cleaning?
The term 'commercial cleaning' is often used interchangeably with industrial cleaning, but there is a difference between the two. The key difference has to do with the health and safety of the facility. Industrial cleaning requires training and certification to address the potential hazards of a building. This can include sterilization to ensure that the environment is free of harmful contaminants. For example, specific chemicals and techniques are needed to clean:
Food manufacturing plants
Breweries
Hospitals
Laboratories
Chemical plants
While commercial cleaning doesn't require training or a certification, a good knowledge of products, tools, and equipment is needed to complete the job well. This is where a cleaning supplier in Calgary can help. The next time you need to place an order to restock your cleaning inventory, be sure to ask our experts for recommendations on how to improve the process. The return can translate to less downtime, cost savings, a happier cleaning staff, and a positive experience for all who use the building!