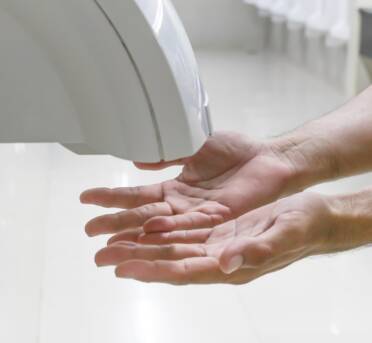 Why We Choose Hospeco for Restroom Care Products
When practising proper hygiene, restroom products and hand dryers are essential to both commercial and industrial bathrooms. Hand dryers have become increasingly popular, especially during the pandemic. And while there are other ways to dry your hands, such as using a cloth or paper towels, none are as effective hand dryers by Hospeco.
From hand dryers and air fresheners to urinal screens, Hospeco is known for its top-quality products. This article will examine why they are our go-to supplier for restroom care products here at Clean Spot.
About Hospeco
For the last 100 years, The Hospeco brand has been the leading manufacturer of cleaning, protection, food service, healthcare, and hospitality products. Their products include:
Air care
Menstrual care
Toilet seat covers
Wipes
Gloves
Safety products and sorbents.
Hospeco's product innovations have made them the recognized leader in air care systems. Fun fact; they were also the first supplier to offer a complimentary fragrance system for both the men's and ladies' restrooms. This reputation and the continued growth are part of the reason we rely so heavily on Hospeco as our supplier!
Hand Dryers
Hospeco hand dryers prevent germs from spreading from wet hands. These modern brands are automatic, allowing users to dry their hands without touching their surfaces, reducing the chances of potential germs on contact.
The HOSPECO HAND DRYER 110V is also more environmentally friendly than traditional paper towels, as they reduce waste. They're known for their ultra-low energy usage and low running costs.
Other Restroom Care Products
Asides from the popular Hospeco hand dryers, other products we carry by them include:
We Make Cleaning Simple!
Asides from Hospeco hand dryers and restroom care products, Cleaning Spot also stocks the highest quality cleaning supplies, Mops, scrubbers and many more!
Clean Spot Inc is committed, through the strength of our people, to deliver the best products and services while creating a memorable buying experience.
Contact us at Clean Spot (866) 281-2185 if you have any questions.