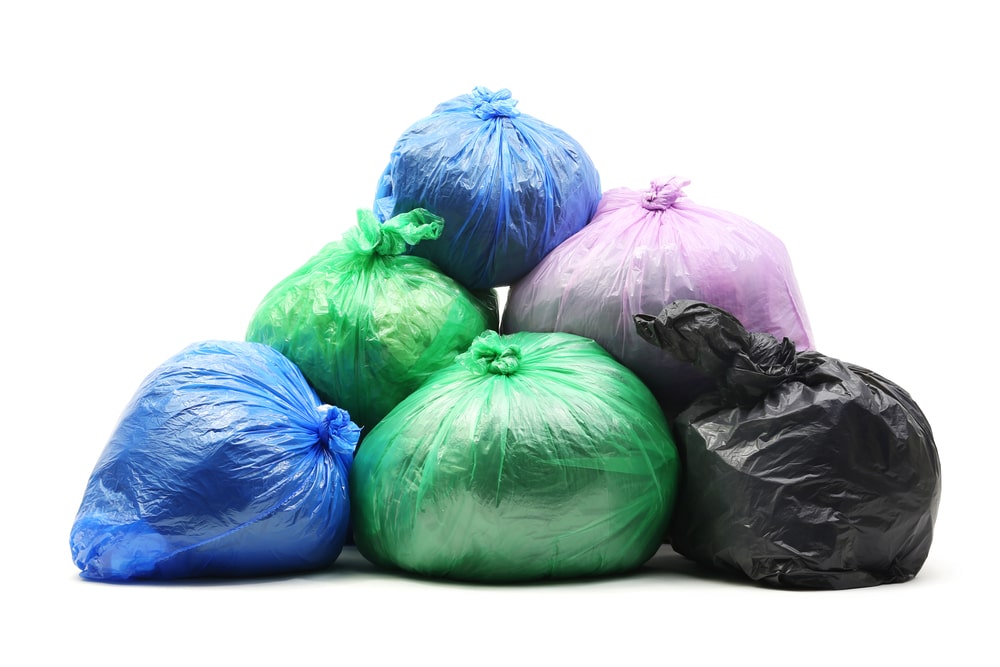 Coloured garbage bags for different uses
Did you know that different types of garbage bags help waste and recycling facilities categorize trash? Using coloured garbage bags also simplifies the waste management process for cleaning staff and helps with maintaining a sanitary environment. We've created this helpful guide explaining the uses of different types of garbage bags.
Black garbage bags
Black garbage bags are arguably the most common and used for many, many purposes. The main use of black garbage bags is for non-recyclable and non-infectious waste. These quintessential trash bags come in a variety of sizes, densities, and thicknesses depending on the type of waste your facility typically collects. In fact, using heavy-duty garbage bags can be advantageous for your business in more ways than one.
When black trash bags are they're lined outside ready for pickup, the opaque material hides the content and keeps trash contained. They also help keep critters out of the garbage when combined with a commercial or industrial-grade garbage bin. This helps facilities maintain an orderly and clean environment.
White garbage bags
White trash bags are most popular for household use, offices, kitchens, and bathrooms to keep the area looking neat and bright. Unlike black trash bags that can give off an "industrial" feel, white trash bags communicate cleanliness. White garbage bags also come in different sizes, densities, and thicknesses to minimize the risk of tearing and having garbage spilled out.
Clear garbage bags
Clear garbage bags are more commonly used for light waste like paper and cardboard. You'll often see them in recycling bins to help staff easily identify and remove non-recyclable items. Clear trash bags are also popular for collecting bottles and can, which helps bottle depot centres identify the different types of recyclables.
Clear garbage bags are also helpful for organizing storage, packing inventory, and for moving location. They allow you to easily see the contents inside and saves you time from digging through opaque bags.
Bonus: Compost bags
Another important trash bag that is worth including is the compost bag. These are typically green but can come in light grey or white. Compost bags are easily identifiable because they are generally labelled 'compostable'. These bags are specially made for food, grass trimmings, plants, tea bags, coffee grounds and filters, bones, and anything that can be composted.