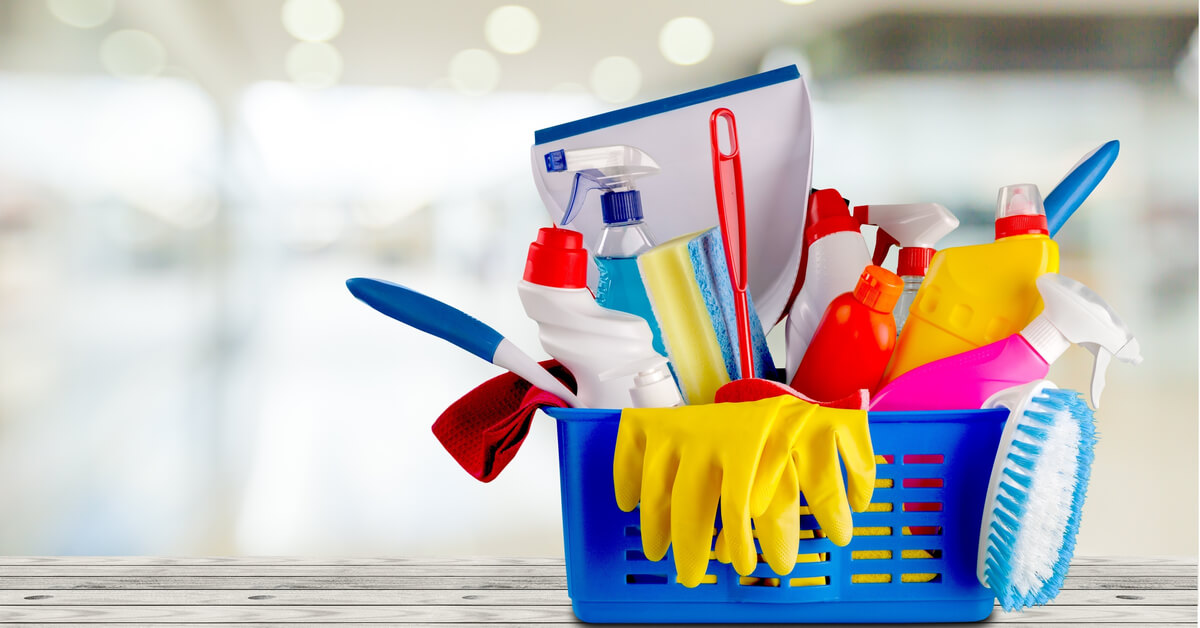 Top 5 Must-Have Cleaning Equipment For Your Workplace
There is a wide range of cleaning equipment available out there. Simply do a quick Google search and you'll be bombarded with the latest gadgets, tools, self-cleaning machines, and more. When you're looking for the right cleaning equipment, it can be overwhelming. Our rule of thumb is to keep it simple yet effective – there are certain tried and true methods and products that will effectively keep your workplace clean.
To start, we recommend conducting a potential hazards test around your workplace. Even if it seems the environment is low risk (such as an office) compared to, say, a hospital, it's best to be aware and take inventory. Write down chemicals that are onsite, including bleach. Some chemicals should not be mixed together as they can create a dangerous reaction.
Next, take note of the types of materials in the workplace. Is the flooring hardwood? Carpet? Tile? Or a mix of different types? Knowing the various materials will give you a good idea of the type of cleaning products you need, such as a product specifically made to clean hardwood safely, or a vacuum that can transition from hard to soft floors easily.
Once you've given the workplace a thorough walkthrough, gather the following cleaning equipment and products to make sure you have what you need on hand.
1. Personal Protective Equipment
First and foremost, always handle strong cleaning products and chemicals with gloves and eyewear. These two simple protective equipment can prevent burns, skin irritations, and chemicals from splashing into the eyes.
Additionally, it's a good idea to have safety data sheets on hand or posted on the walls in the room where you store cleaning supplies. While cleaning staff may be familiar with the safe use of chemicals, if an office employee needs to grab a product to clean up a spill, having the safety data sheets available is helpful.
2. Floor Equipment
The hardest working thing in the room at your workplace is often the floor, especially for high-traffic areas or businesses that see a lot of clients in a day. Dirt, grime, mud, and other contaminants enter the area through people's shoes walking through the space. This highlights the importance of having good floor cleaning equipment.
Depending on the type(s) of floors you have and the size of your workplace, we recommend an automatic or ride-on sweeper, a vacuum, and a mop for hard floors with a specialized cleaning product. Don't forget the floors of the bathroom, which often require a separate stronger cleaning product for disinfection.
3. All-Purpose Cleaner
An all-purpose cleaner is the holy grail of companies, janitors, and cleaning supply companies alike. These do-it-all cleaners are safe to use on virtually all surfaces unless otherwise specified, including desks, kitchen counters, doorknobs, and high-touch surfaces area. The only areas we don't recommend using an all-purpose cleaner on are windows and glass, which takes us to our next product recommendation…
4. Window Cleaner
Window cleaners are specifically formulated to break down dirt and grime on windows and glass surfaces without streaking. We don't recommend using just any cleaning product on windows or glass as they will likely streak and, in some cases, the chemicals can dull the surface or do irreversible damage altogether.
5. Cleaning Tools
Last but certainly not least, you'll need the right cleaning tools. Be sure to have the following essentials on hand:
Microfibre cloths – We recommend colour-coding them to prevent cross-contamination (ie: blue for kitchen counters and green for the bathroom).
A duster – Choose a duster with an expandable wand to help you get into the hard-to-reach areas.
A scrub brush – These are great for spills and getting tough stains out quickly.
In closing, good-quality cleaning tools, equipment, and commercial-grade products can get the job done efficiently and maintain a clean, healthy workplace.