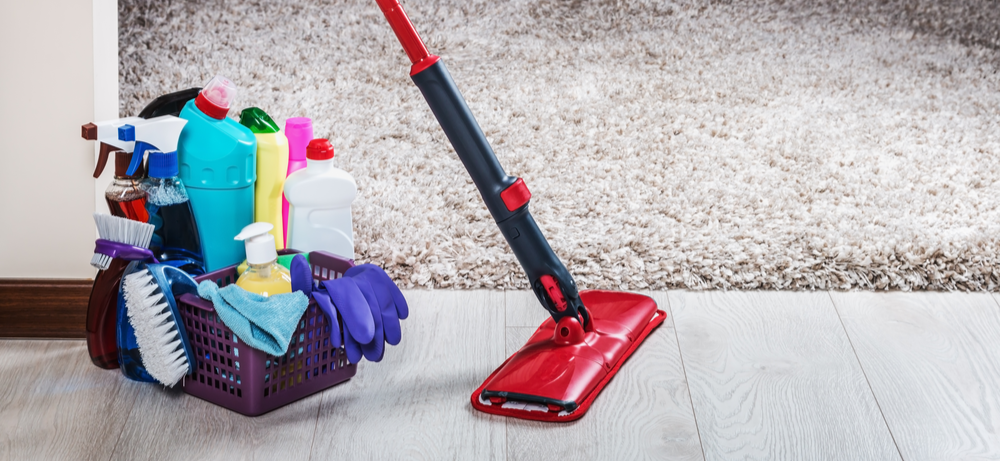 10 Inexpensive cleaning accessories that impact your bottom line
We've talked about some of the greatest advancements in cleaning technology, including impressive and robust equipment that can do it all. However, the cleaning tools that can make the biggest difference are often the simple accessories used on high-touch surfaces, windows, floors, and throughout the facility. Cleaning staff can save a lot of time and money on labour-intensive tasks by switching to the right tools. Here are ten inexpensive cleaning accessories that can impact your bottom line.
Microfiber cloths – Microfiber is made of positive-charged polyester and negative-charged nylon to attract and pick up dust. These inexpensive cloths don't scratch or leave streaks behind and they hold dirt, grime bacteria, grease, and liquids, making them great for cleaning virtually any surface. You can kick it up a notch by colour-coding microfiber cloths to prevent cross-contamination in different areas. For example, blue cloths for the bathroom, green for common areas, and pink for the kitchen. Microfiber cloths can be washed and reused time and again before needing to be replaced.
Dustpan, picker, and scoop – Most facilities have these on hand but don't often think about replacing them with a newer version that can save cleaners time. If your dustpan, picker, or scooper are outdated, consider purchasing new ones that have improved ergonomic designs. The latest dustpans, pickers, and scoops minimize back strain to help keep cleaning staff productive and injury-free.
A duster with an extendable handle – It's a simple game-changer that saves time and can achieve a better clean. Extendable dusters eliminate the need to step up on ladders to reach high areas. They can also come with a flexible wand that bends to get hard-to-reach spaces. If your facility has blinds, use a 3-layer mini blind duster to efficiently remove dust.
A wide broom and mop – Did you know that a wider broom and mop can cut your cleaning time in half? Using a broom and mop that are smaller in width for large floor space eats up precious time. With wider versions, you're able to clean more space in less time.
Cleaning cart – One of the constraints that can lead to cleaning inefficiencies is staff needing to walk to and from the storage room to grab cleaning supplies. A janitorial cleaning cart can be stocked with everything you need for the shift, which saves employees an incredible amount of time and effort.
The right garbage bags – Yes, the type of garbage bags you use can make a big difference! If you're finding that bags are consistently ripping, leaking, or are too full by the end of the day, it's time for an upgrade. Some facilities make the mistake of using residential garbage bags, but commercial garbage bags are designed to hold more and are tough to puncture. This includes compostable bags which you can conveniently purchase at our online Calgary store. For busy facilities with high foot traffic, switching to stronger garbage and compostable bags saves staff time from needing to empty the garbage often.
Cleaning toolbelt – Most people use a caddy to transfer cleaning supplies, but a cleaning toolbelt frees up your hands and makes moving to different areas that much more convenient. You can simply reach for the tool, cloth, or cleaning solution you need which can shave minutes off the task. Those minutes add up and translate to cost savings and increased productivity.
Floor pads and sanding screens –  Companies can save on cleaning supply costs by switching to heavy-duty floor pads and sanding screens that can last longer before needing to be replaced. Some facilities make the mistake of purchasing the cheapest floor maintenance pads, but a cheaper price doesn't always translate to being cost-efficient. Low-quality pads that need to be replaced more often will not only cost more but will also impact the cleanliness of your facility.
A hand vacuum – Hand vacuums are great for quick spot cleaning throughout the day. They make it easy to keep areas clean without the hassle of a larger vacuum and they also serve to reach hard-to-clean corners and spaces with the right attachments.
Powerful cleaning solutions – Last but certainly not least, industry-grade cleaning solutions matter when it comes to commercial cleaning. Remember that residential cleaning products should be reserved only for the home. Commercial cleaning solutions are formulated to handle tough grime and dirt. Most facilities need an all-purpose cleaner, a window cleaner, toilet scrubber, floor cleaner, and disinfectant. Powerful cleaning solutions eliminate the need to go over surfaces multiple times, which cuts cleaning time and reduces the amount of product used.
The above are just a few examples of how seemingly small cleaning tools can offer significant solutions for your day-to-day cleaning needs. Combined with the right equipment, cleaning staff are more productive and your facility is well-maintained for all patrons who use it.